Are You Prepared?
by Kevin Reed
It was Benjamin Franklin that famously said, "By Failing to prepare, you are preparing to fail." Truer words cannot be spoken right now, with all of these supply chain issues and surging prices on most everything you need for your project.
Now, more than ever, you should be planning ahead. Instead of buying just what you need, the night before you need it, we suggest reaching out to your friendly Paramont EO/Crest salesperson to discuss your supply list ahead of the install. If you know, even roughly, what stock material you will be using, we can help!
As a classic example, instead of buying 4 dimmers every other day, and installing them as you go, take a quick count of all the dimmers you will need, and have them on hand and ready to rock! If you know you use a few hundred die-cast fittings on every job, it wouldn't hurt to keep a couple cases in the shop or in your garage.
If you haven't already been doing so, check out our monthly Paramont EO Supply Chain Update. Think of it as your one stop shop for which segments are going up in cost and which product families are having issues shipping.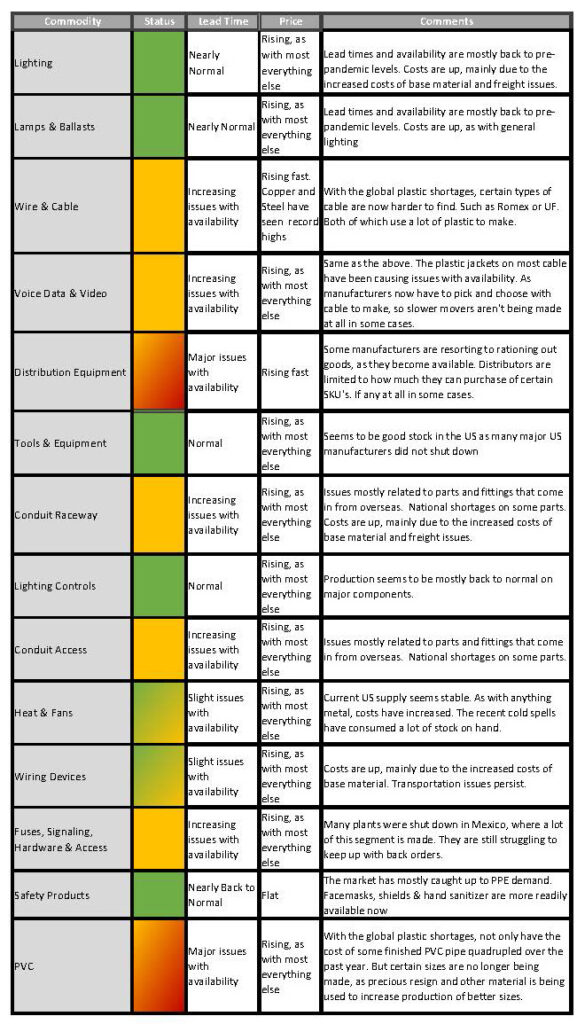 With price surging becoming an almost weekly affair in our industry, I'm sure more contractors wished they had stocked up on common goods, before so many costs went sky high. PVC pipe has now quintupled in cost over the past year. A spool of circuit wire? That's more than doubled.
Think of it as an investment. With nearly all commodities up, and continuing to increase, those cases of plaster rings in your garage are certainly worth more today than they were just a couple months ago when you bought them. And the best part is, they wont go bad! Bananas are up in price too. But if you stocked up on those 6 months ago, I'd hate to smell your garage right now.
Having more on hand than what you need right away can help cover both your bottom line, as well as your already strained nerves if what you need is in short supply. Let us help you not only secure the goods you will need, but lock in at their current rate as well when you buy in advance. A little planning goes a long way, and all signs point to more increases in costs, and kinks in the supply chain, at least through summer.
As always, our helpful, knowledgeable team is ready to offer assistance, support, and guidance. Give us a call at 844-PARAMONT (844-727-2666).