Introducing the Southwire Beast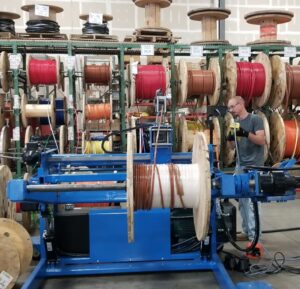 With 6,000 pounds of lifting capacity and capable of supporting reels up to 72" in diameter, this 20-horse power Monster might literally be the biggest thing in cable to ever be installed at a private distributor in Chicagoland! Proving once again our commitment to you and keeping us here at Paramont EO at the forefront of safety and technology.
This Hydraulic, Variable Speed Bi-Direction Drive machine helps to ensure your cable won't show up on site with burns or tears to the jacket. With a fully automated Paralleling Guide Box and a Slide Traverse system for layering wire, that helps eliminate tangles from paralleling, we strive to get your project off to the right start by taking the guess work out of your pulls.
We have yet to see a cable job that is too big for Paramont EO, and the Beast, to tackle. Just another new weapon in our cable management arsenal.
Learn more about Paramont EO's full line of cable solutions at https://paramont-eo.com/cable-solutions or by calling us at 708-345-0000.