Covid-19 Electrical Distribution Supply Chain Impact Update
All Supply Chain Updates are authored by Kevin Reed
JULY 2021 SUPPLY CHAIN UPDATE
Copper has continued its rebound in cost. As of this writing, it is currently trading at nearly $4.40 once more. But, the price of actual finished copper building wire never waned much. The material that goes into the jacket of the most common type of cable(s) in our market, THHN (Polyvinylchloride) & XHHW (Polyethylene) are both very much in short supply, and priced higher than they ever have been in the past.
Lead times from the factories are continuing to rise, due to both demand and some shortages in raw material.

The same PVC shortages that are forcing cable pricing up, are doing the same to nearly every product that relies on plastic. Most major US manufacturers of PVC pipe are still not making certain sizes of conduit. As of this writing, Schedule 40 ½", 1 ¼", 2 ½" & 3 ½" still are not in production, as these companies are using the PVC and resin they have on hand to make more common sizes of pipe. Same goes for Schedule 80 PVC sizes, 3/4", 1", 1 ¼", 1 ½", 2 ½", 3 ½" & 5".
Steel continues to be nearly unstoppable, breaking records almost every couple of weeks.

In the middle of March, a metric tonne of Cold Rolled Coiled Steel, which is most commonly used in our industry, was trading at $1,525. Currently, that is up over $525 more right now. Steel is actually in sort supply, and it appears to stay that way at least through summer.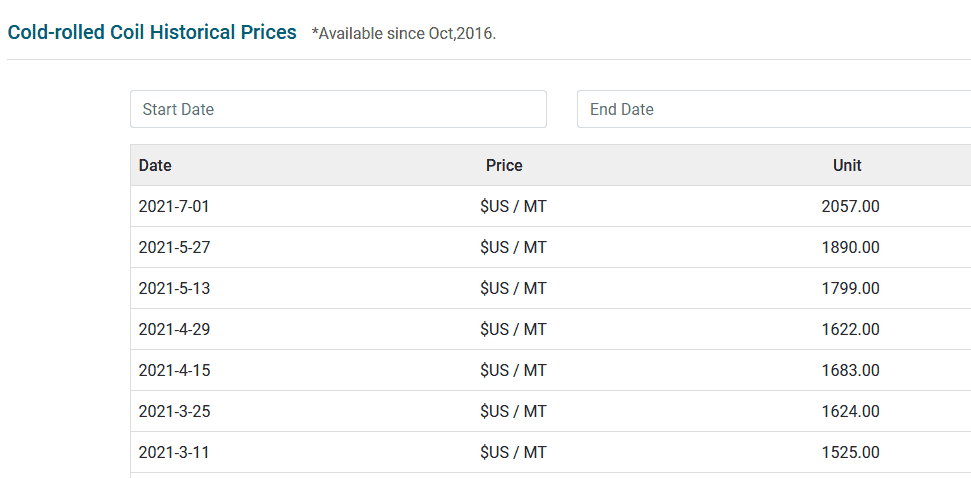 From October 2020 until now, Raw Steel has nearly tripled in value

JUNE 2021 SUPPLY CHAIN UPDATE
Steel pricing continues to be the talk of the town. With an extremely tight supply chain for raw material, and steel costs setting record highs here in the US almost weekly, most everything that touches steel has gone up in price. And more and more items are becoming harder to source because of all these factors.
As you can see from the below, CRC had one lull to close April. And immediately shot back up in value shortly after. As of this writing, we are nearing $1,900 per metric ton. That is up $1,000 YTD. Well more than double what steel was trading for at the end of last year.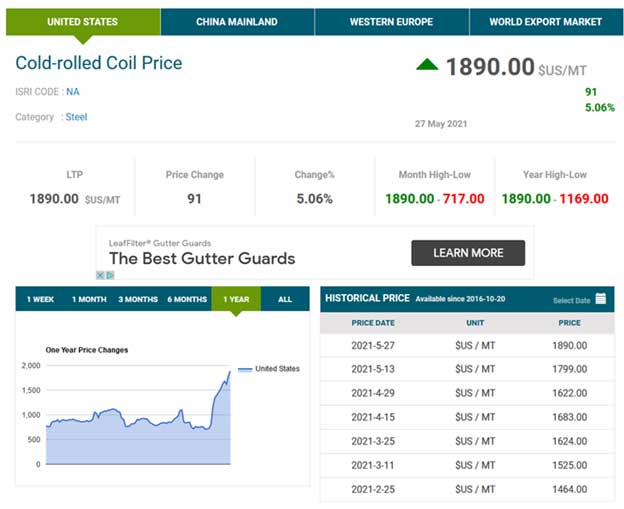 While Copper is not necessarily in short supply, it is still in demand. As with most everything metal, the price of CU is just as strong as ever. One year ago to the day, a pound of copper could be had for $2.40. Currently, it is nearing $4.70 once more. Now nearly double the price it was.
Outside forces are pushing the finished cost of copper cable up as well, beyond the surging cost of the red metal itself. The raw materials used to make the jacket that goes on finished cable, have often been hard to source and most certainly cost more right now as well.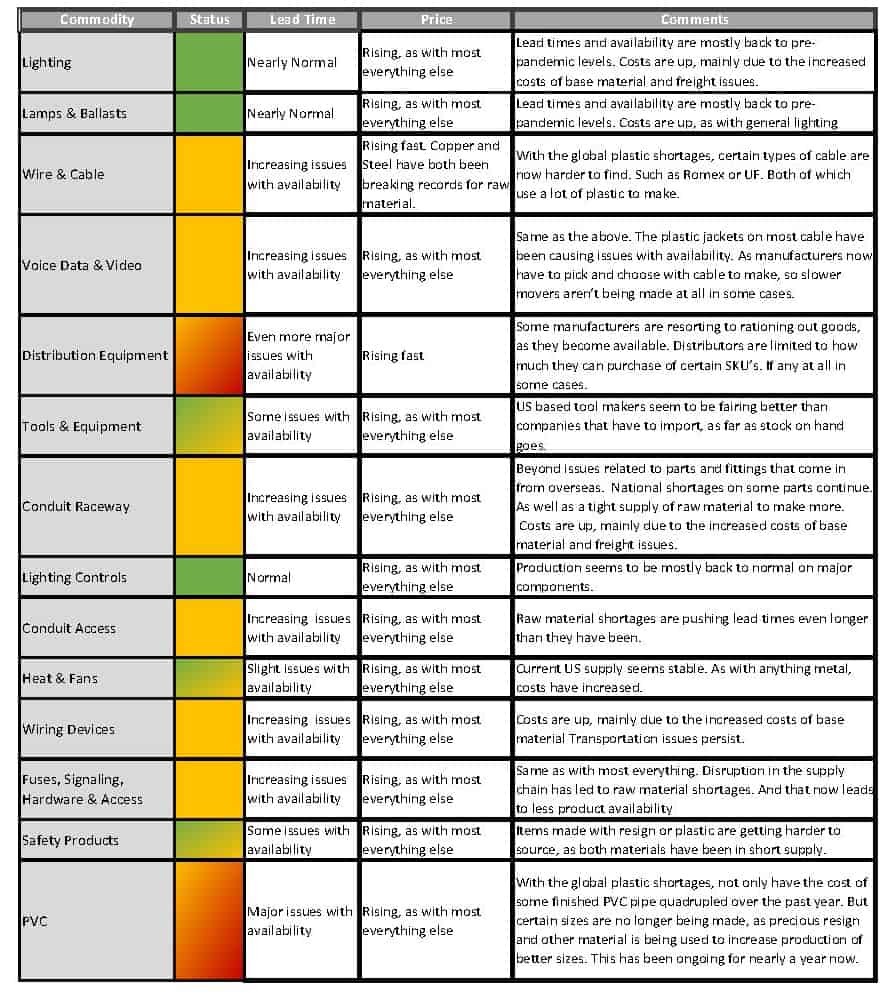 MAY 2021 SUPPLY CHAIN UPDATE
Steel continues to be pricey, as the 1 month chart shows below. In fact, the cost of a metric ton of Cold Rolled Steel has more than doubled in cost over the past year to date. Domestic steel mills that idled furnaces last year amid fears of a prolonged pandemic-induced economic downturn, have been slow in ramping up production. This is leading to them playing catch up, as prices are soaring due to demand as well as these shortages. The mills are constantly overbooked, and many are now past capacity.

With the US Mills still not producing enough steel to meet demand. Many US manufacturers are once more turning to foreign steel, and just paying any import tariffs on that. This is now taxing an already strained foreign steel market as well. The EU is seeing their own steel shortages and price surges as well.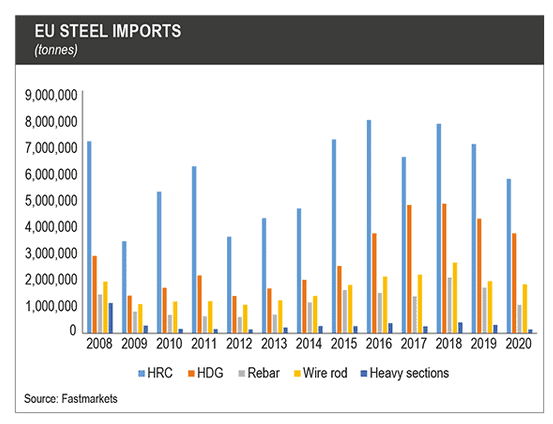 A pound of copper? That has more than doubled in cost as well. Whereas steel has already broken its own cost record, Copper is just pennies away from doing the same.

APRIL 2021 SUPPLY CHAIN UPDATE
Our previous update saw CRC Steel hit an All-Time high of $1,464 per MT. As of last week, it was up to $1,624 per MT, with no signs of slowing down; continually breaking new records since the start of the year.

Copper demand continues to stay strong and with the ongoing Global Plastic shortages (more on that below), the cost of finished cable has gone up nearly 10% in many cases, as the jackets used on wire are made from a suddenly hard to source material, due in part to the ongoing plastic and resin shortages we faced during the pandemic.
The Texas deep freeze and port backlogs compounded problems for manufacturers and distributors already plagued by pandemic disruptions. As a result, we are now seeing more major shortages of some products in our industry that rely heavily on plastic and related chemicals.
Prices for polyethylene, polypropylene and other chemical compounds have reached their highest levels in years in the U.S. as supplies dwindle.
Price surges related to PVC, which caused finished goods to quadruple in cost in some cases (e.g. conduit), spurred a national shortage of UF and Romex cable. THHN might very well be next if these manufacturers split their raw resources on hand to make more and more Romex. Certainly something to watch.
OVERVIEW OF ELECTRICAL SUPPLY CHAIN KEY COMPONENTS
MARCH 2021 SUPPLY CHAIN UPDATE
The cost of base metals has been steadily climbing for months. This effects not only the costs for cable and conduit, but most everything we stock.
Cold Rolled Coil, the steel our industry relies on, went from $850 in October 2021, to $1100 by New Years, and is currently at $1464 as of this update.

We are continuing to see issues with availability for certain product categories and prices are higher on almost everything due to pandemic expenses and higher cost of base materials.
MARCH 2021 SUPPLY CHAIN UPDATE
NEW YEAR, NEW PRICE INCREASES
January Supply Chain Updates
The cost of base metals have been steadily climbing for months. This effects not only the cost for cable and conduit, but most everything we stock.
If the US dollar stays weak, it organically costs more to buy materials. If the supply chain stays strangled, it costs more due to demand. If the Pandemic drags on, things cost more due to COVID shutdowns. Combine all three dynamics and price increases become inevitable.
January 2021 Supply Chain Updates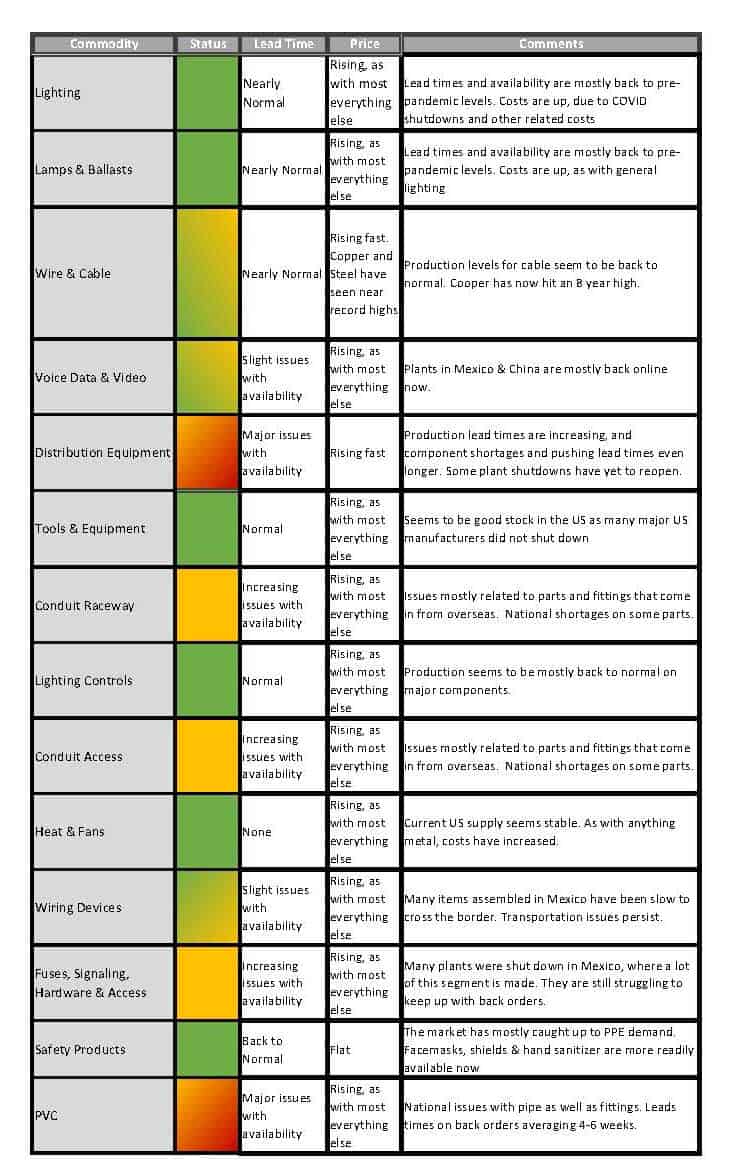 NEW KINKS IN THE SUPPLY CHAIN — NOVEMBER EDITION
As the US continues to wait for a COVID Stimulus plan to be released, so does the EU. And with every new report of a highly functioning vaccine that gets reported, metals have been spiking. The market always responds well to positive outlooks.
The vast majority of products in our industry touch both Copper and Steel. And as such, the value (and replacement costs) of those goods are at near recent record highs.
CU hit its 2 year high yesterday, topping out at $3.2395. This is the highest its been since June 2018.
As you can see below, Copper has soared back to life nearly every week since the initial COVID shutdowns.
We have gone from a 1 year valley of $1.97 per pound. to a 1 year peak of $3.24 per pound.

Steel is no slouch either. CRC, Cold Rolled Coiled, is the base for our metallic raceway, and the metal that most effects our finished pipe price.
The below chart shows that is was being purchased for $700 US per ton over the summer. It is currently at $942 and climbing. This has lead to record prices being asked for finished goods in our market.
Nearly all "like" manufacturers are asking for the same higher costs these days. Forcing everyone to raise prices for product effected by these base metal increases.
In addition to price increases, we are still seeing some abnormalities in our supply chain as shown below:
November 2020 Supply Chain Updates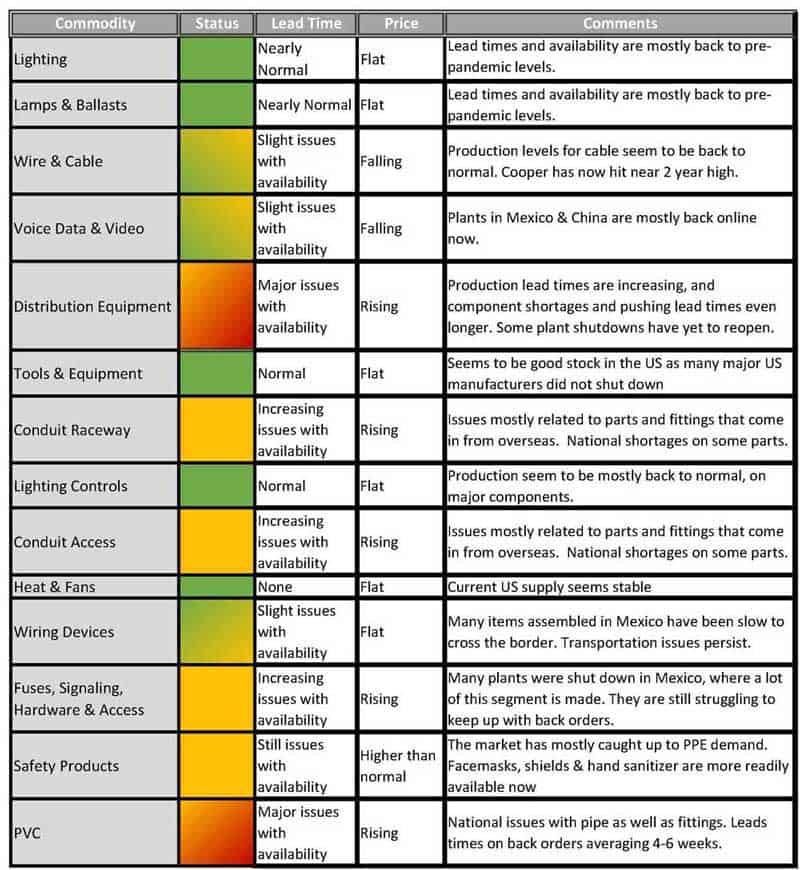 September 2020 Supply Chain Updates: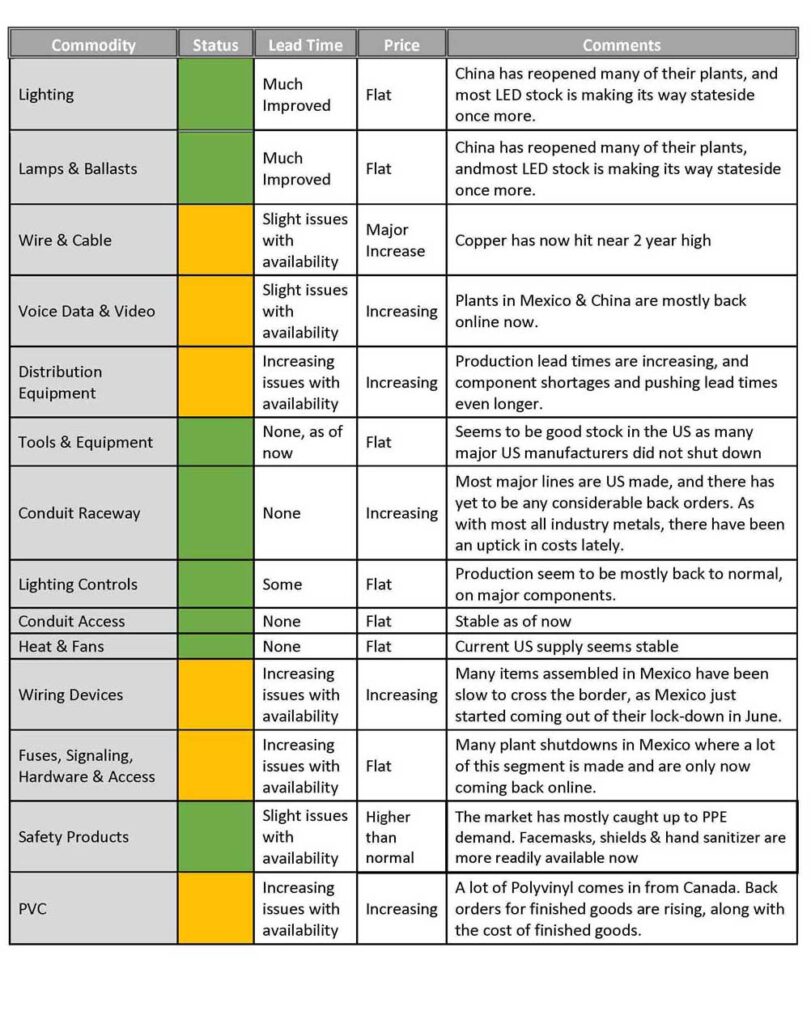 August 2020 Supply Chain Updates:
Coronavirus Impact on Supply Chain July Update: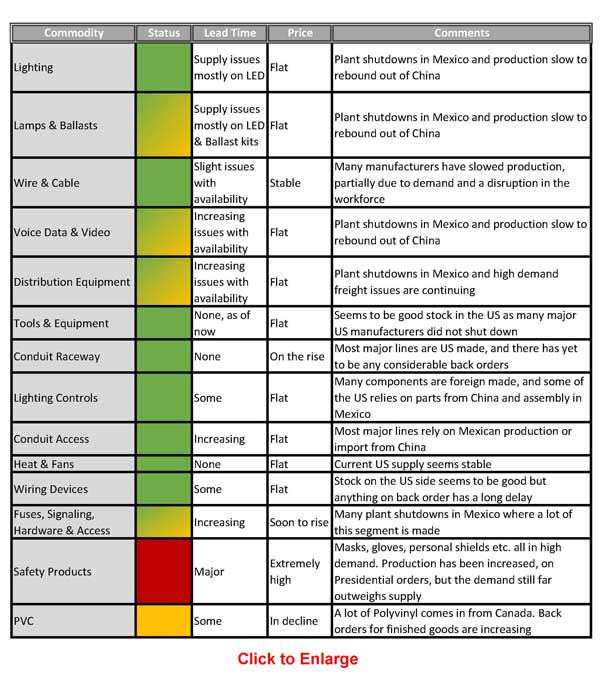 KEY TAKEAWAY?
As most supply availability stabilizes, many prices are rising.
Continued kinks in the Supply Chain
Our current struggle seems to be getting goods from Mexico and India. Mostly fittings, as of now.
Both countries started coming out of their lockdowns in June. And, just like the US, both of them saw a huge surge in cases.
Our previous update was based on the assumption that things would slowly be coming back online by the end of summer. Now, it appears factories and docks will still continue to split shift and run at reduced capacity, to once more try to slow the spread of COVID-19.
The sky is not falling, we are still sourcing >95% of what we need without issues, but <5% still carries a prolonged lead time of months on end.
Below are current new stats for Covid-19 cases, as of right now, for these two countries.

On the flip side of all this, is an increase in the value of goods. Many price increase letters have been sent, and many price files were updated recently to reflect those higher stock costs. The new pricing is due to both the increase cost of transportation (in very high demand) as well as COVID-19 related cleaning and split work shifts, to help keep workers safe.
These are not huge fluctuations in cost, less than 5% in most cases, but still an increase on a lot of what we buy and sell.
The biggest jump has come in the cost of copper and copper-related goods.
As you can see below, we are riding a wave of copper value pricing. We are nearly back to the highs of Q4 2019.


China has recovered faster, and started consuming metals again. That caused a spike in pricing. But also, there is less copper coming online from the mines.
The top two copper producing nations, Chile and Peru, are just now being hit by the Coronavirus. As those cases continue to climb, those countries will start to pull back on production as the rest of the world has, as they are forced to limit their workforce.
It is important to note, unlike finished goods, there will not be a shortage of copper, even if many of the largest mines shut down. We have drawn enough copper from the earth to last for years, and it is easily recycled. Instead of a shortage, you will just see a continued rise in cost per pound instead.
Read our Previous Supply Chain update here