Market for Data Centers in Chicago is "Bull"ish
Sometimes it's good to be in the middle…in the case of data center locations, the midwest, and Chicagoland in particular, seems to be a sweet spot. For Cloud Services providers, Chicago's suburbs offer the space and infrastructure to support colocation facilities for increasingly popular hybrid cloud strategies, as well as act as a latency-reducing bridge between west and east coast based data centers.
Last year, Chicago ranked 2nd for new data center construction based on square footage. The following image is from a recent article in Building Design + Construction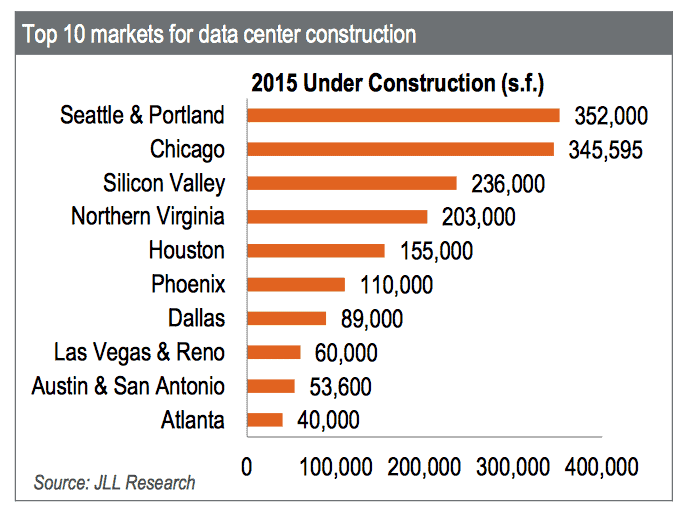 And, as predicted the trend continued into 2016 (image source JLL Research):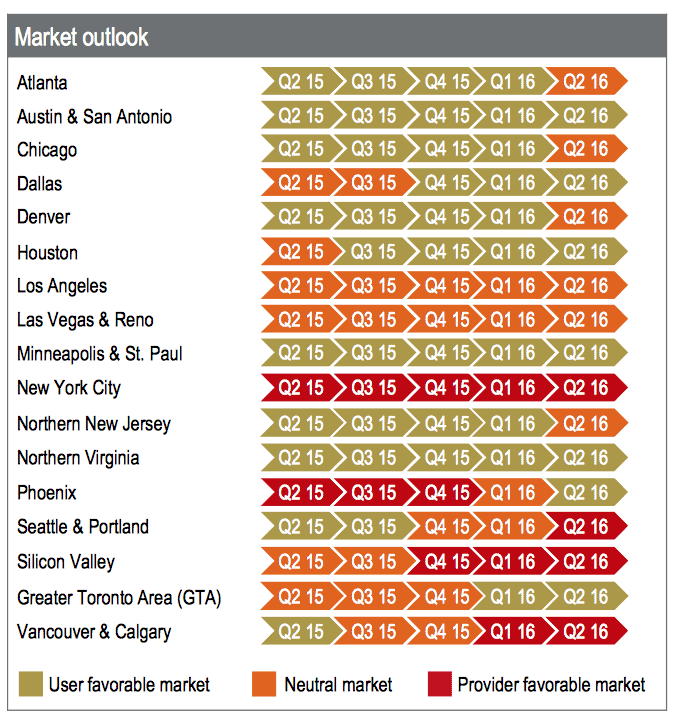 With one of the highest rates of foreign investments and substantial chunk of the global derivatives market activity, Chicago is a point of intersection for nearly all major data networks. Another attractive aspect is Chicago's climate which allows for minimal need for cooling equipment (typically only a few months per year) and is at relatively low risk for major extreme weather events.
Between the downtown, mostly colocation, market, and the suburban mega centers, Chicago is home to nearly two million square feet of data center space.
(From Data Center Frontier / Image source: DatacenterHawk)
Building a data center entails a ton of coordination and detailed understanding of the equipment airflow, cooling, and power requirements, in addition to the normal challenges of engineering a large facility. New regulations on energy efficiency and climate resilience, as well as new expectations for security and remote access (as if those last two demands didn't already pose enough challenges) all combine to add new layers of complexity to the design-build and project management components of a successful construction project.
As the Internet of Things (#IoT) expands, the need for more/bigger data centers to store and crunch the massive amounts of data collected by sensors, and host the applications that will know what to do with the information they capture, to deliver on the IoT promise of connecting *things* in order to share information, in order to do something *smart* will also grow.
Paramont EO has supplied a number of datacenters with switchgear, electrical material, and lighting, and understands the unique challenges they pose to the design-build and construction process. Our switchgear and lighting teams can support the design and project management phase with everything from next generation, micro-grid ready switch gear to intelligent, internet-ready lighting. We are ready to help with your next data center build-out, expansion or new construction project.