Material Handling: 5 Ways to Convert Costs To Profits
When it comes to electrical jobs, every hour that an electrical contractor can save goes straight to profits.
Material handling accounts for 40% of the labor on a job – so let's start there.
If you break it down in plain speak, "material handling" means ordering the items. Then, it means waiting for the items. Then, it means receiving, unpacking and assembling the items. It might also mean storing and then locating and retrieving the items and ultimately moving them around the jobsite.
Phew. That's a lot. It's also a lot of things that slow down your project and business.
It's estimated that electrical contractors have the potential to convert nearly 17% of their revenues from labor costs to profits. By building a deeper working partnership with their electrical distributor, in fact, electrical contractors can save as much as 50% of their material handling expenses.
Carts are a great example of how electrical contractors can eliminate waste, increase jobsite efficiency, decrease storage costs and enhance mobility when it comes to electrical supplies.
"The easier it is for a contractor to move material around, the more he can reduce the installation cost," said Ken Gallagher, who is Paramont EO's president and CEO.
Here are five examples that Paramont EO, an electrical supplier in Illinois, uses to help contractors turn material handling costs associated with electrical supplies into profits with carts: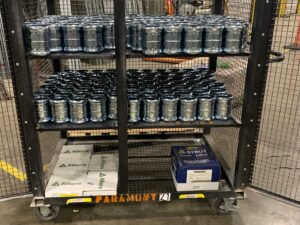 Shark Carts: These fully loaded material carts come with see-through convenience and lockable doors to keep your material safe, secure and readily accessible. This is a valuable jobsite service. Electrical contractors can access everyday materials in a device that can be secured to prevent loss and theft. They can also easily move these carts to different areas on site. And when the cart is empty, they just call to have Paramont EO pick up the empty cart and replace it with another fully loaded material cart. The stock-and-replenish service, also known as Vendor Managed Inventory (VMI), reduces electrical contractors' wasted time making them more profitable.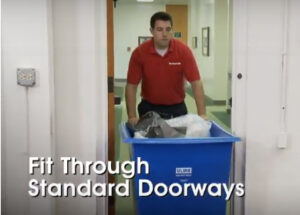 Laundry Carts: These carts have 4-inch caster wheels that swivel for a smooth transport. They move electrical supplies quickly and easily onsite and through doorways.
Fixture Carts: These custom carts built by Paramont EO are stocked with out-of-the-box, assembled fixtures ready for installation to drive the utmost efficiency and productivity onsite. These carts help contractors make their workflow more efficient by allowing Paramont EO to take deliveries on their behalf. For example, a tenant improvement build may call for $300,000-$400,000 worth of lighting. Typically, that load would mean the contractor would have to accept as many as 50 deliveries from various manufacturers from common freight carriers at any time of the day. In other words, this part of the project could cost a contractor potentially 50 work stoppages of varying lengths. In addition, the contractor would also have to find space on the jobsite to store the materials until they are ready to use them. Instead, electrical supplier Paramont EO would accept the deliveries, organize the materials in their warehouse and then provide timed deliveries in a staggered manner to coordinate with the contractor's project timeline. "In this scenario, we are reducing the contractor's touches 30 or more times, which reduces their install costs," Gallagher said.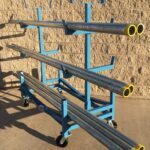 Pipe Carts: These carts help electrical contractors move pipe and conduit, and other long, awkwardly shaped items, with ease. Built-in forklift pockets allow for easy delivery and mobility on the jobsite. Extra space below the load and side rails also enables a forklift to unload the pipe and conduit.
SIMpull CoilPAK Cart: This rugged system makes room for several SIMpull CoilPAK payoffs on one integrated system. The cart allows CoilPAK payoffs to be added or changed easily without impacting other CoilPak's on the cart. Innovative staging springs allow electrical contractors to secure up to eight wires. This technology creates an environment where conductors can be frequently changed, added or dropped. Regarding mobility, this integrated cart is easy to use in hallways and fits through standard doors. "Using the SIMpull CoilPAK cart, cable is easier to keep organized and roll into place so the contractor can reduce the install costs," Gallagher said.."
Paramont EO Exceeds Where Other Electrical Suppliers Fall Short
The use of carts adds value to other Paramont EO services—kitting and staging—which makes the workflow for electrical contractors more efficient.
To ensure electrical contractors convert more expenses to profitable revenue, Paramont EO will package two or more parts into one kit. Then, the electrical distributor will intentionally send the supplies in a staggered manner, so they coordinate with scheduled workflow on the job site. In other words, when you need the stuff, you will have it. There's no need for extra storage room on the project.
Electrical supplier Paramont EO will manage the inventory and replenish the carts as needed throughout the life of the project.
As a result, Paramont EO delivers much more than products; it solves problems with its services. It provides more than 50 cost-effective, time-saving services to contractors on a daily basis.
For more than 50 years, the family-owned electrical distributor has built its business to better serve electrical contractors with 125,000-square-feet of fully stocked and loaded warehouses, comprising one of the largest electrical supply inventories in the state. Paramont EO also offers dozens of time-saving services that range from kitting and staging to onsite job trailers, around-the-clock on-time deliveries to repair services and project management to reduce contractors' expenses. To better serve the market, its strategic locations include Chicago, Woodridge and New Lenox.
And that's how Paramont EO, a full-service supply and logistics problem-solver, helps commercial contractors maximize profit by creating custom solutions to meet their needs for every job.
"Our cart offerings evolved from listening to contractors about their pain points and devising creative ways to provide solutions," Gallagher said.
Want to convert your material handling expenses into profit? Contact Paramont EO today!