'Direct Through Stock' Adds Bottom-Line Value
Here's one: An electrical supplies procurement planner says to the manager, "What do you like most, my new forecast, or my inventory projections?" The manager looks at all the spreadsheets and replies, "I like your sense of humor."
Unfortunately, the last two years have been one bad joke when it comes to the supply chain, and electrical contractors are footing the bill in one way or another. Construction input costs rose 28% from April 2020 to August 2021, even though bid prices slightly budged 5%, said Ken Simonson, chief economist at the Associated General Contractors of America during an interview with Construction Dive. He also said supply chain issues won't go away, most likely, until 2023.
The global supply chain market is projected to experience a compound annual growth rate of 11.2% from 2020 to 2027, increasing in market value from $15.85 billion to $34.41 billion. If electrical contractors can reduce their supply chain costs from 9% to 4%, they can double their profits.
Electrical contractors rely on Paramont EO as their supply house to provide the materials that they need to do their job. Over the last two years, the No. 1 question has consistently been about inventory.
Communication has always been vital to business success,  and during the pandemic, Paramont EO's staff knew that it needed to provide even more, so they created the Electrical Distribution Supply Chain Update, and put the link at the top the homepage so it can't be missed.
Knowledge is power, and keeping clients informed about the availability of products during stressful, uncertain times really helped electrical contractors more accurately estimate timelines and plan/order material according to new, more realistic schedules, while explaining the many factors contributing to and affecting pricing and availability for electrical supplies in the market for the foreseeable future.
Before the disruption caused by the pandemic, distributors typically dealt with three major types of orders: Direct Ship, Will Call, and Standard Orders.
Direct Ship orders directly link a contractor order to a manufacturer with the client's purchase order immediately being invoiced upon manufacturer shipping directly to the customer. The distributor places the order on the client's behalf, but the product ships directly to the job site or client facility as desired. About 85% of the time, direct shipments are used for custom products like gear and lighting, and while they tend to have slim margins, they are still a reasonably profitable type of order since the distributor never touches the items.
Will call orders, on the other hand, require the most touches and therefore are the costliest orders for a distributor to process. Common items must be pre-purchased, received into stock, bin-located and then a counter employee must enter the order, go pick the order, pack it up and process payment for each customer, one at a time.
In the middle is the standard order that comes in over the phone and gets batched, picked and shipped along with other similar orders.
Now that the supply chain has become so unstable, many clients are using the direct-ship order process to have products brought into the distributor's facility for future release to job sites as a way of ensuring they will have the product they need when they need it. This is called "Direct Through Stock"(DTS), and it takes what was a reasonably profitable type of order and turns it into the least profitable—even less than will call orders.
The Direct Through Stock program is not a new offering, but it is being used much more aggressively, driven by the marketplace demands in response to the ensuing shutdown in 2020. While procuring product in a timely manner has become nearly impossible, electrical contractors can release an order to ship to Paramont EO, so the electrical distributor can stage and store the material before it's needed on the jobsite. With staging, the Chicago-based electrical distributor accepts shipments directly from the manufacturers on behalf of electrical contractors. Paramont EO receives, inspects, sorts, bundles, labels, and stores material before distributing them to the electrical contractor's jobsite in an organized manner that aligns with the project's workflow.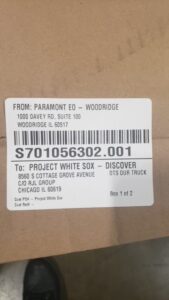 DTS orders range in size from a single room worth of material on just one floor of a building to multiple rooms on multiple levels of a high rise, municipal building, data center, or other large facility, with deliveries optimized by room, floor, wing etc.
This service allows electrical contractors to only take what they need when they need it, providing easier job management and growing their profit margins. It also saves electrical contractors a ton of labor cost associated with paying an electrician to spend time on the jobsite getting to and from a receiving dock multiple times, unboxing, inspecting, grouping, and moving material around the job site. Additionally, staging orders at Paramont frees up space and storing constraints on a job, which helps contractors prevent lost and damaged product.
Contractors can also take advantage of our staging/kitting/labeling/carting services, by having material ship direct through stock.
Electrical contractors benefit greatly by leveraging the "Director Through Stock" program, which means Paramont EO will:
Receive all deliveries, assess noticeable damage and refuse deliveries if required to do so.
Store, kit, label and stage supplies on specialized material carts as desired by client.
Make deliveries on Paramont EO trucks at times/dates requested by the contractor.
Paramont EO is a full-service supply and logistics problem-solver that helps commercial contractors maximize profit by creating custom solutions to meet their needs for every job. For more than 50 years, the family-owned electrical distributor has built its business to better serve contractors with a 125,000-square-foot, fully stocked and loaded warehouse to boast one of the largest electrical supply inventories in the state.
Paramont EO also offers more than 50 time-saving services that range from kitting and staging to onsite job trailers, around-the-clock on-time deliveries to repair services and project management to reduce contractors' expenses. Locations include Chicago, Woodridge and New Lenox. For more information, please visit www.paramont-eo.com or call 844.Paramont.