Project Management: How Paramont EO Helps Electrical Contractors Manage Time, Cost, Quality
Brian Gini always focused on price, but not cost.
And then he started thinking about electrical distributors as partners, as opposed to vendors.
"We were always trying to drive price down and forgot about the serviceability and efficiencies of getting the materials there when they were needed," Gini, co-CEO at Collins Electric in Stockton, California, told Electrical Contractor magazine. "If we saved five cents on a hundred dollars' worth of conduit from a supplier, we weren't looking at the greater cost of installation. If we save one hour of labor, we save $55 or 60 dollars."
In Chicagoland, family-owned Paramont EO is a full-service supply and logistics problem-solver that helps commercial contractors maximize profit by creating custom solutions to meet their needs for every job. And that's why everything at the company begins and ends with project management skills to help electrical contractors grow their margins.
The electrical distributor, based in Chicago, Illinois, provides more than 50 cost-effective, time-saving services to electrical contractors on a daily basis. Each service is tied to a project management plan, which Paramont EO creates to get the inside scoop on the specific project goals.
"Understanding the job's needs before it begins enables us to provide the best workflow for contractors," said Paramont EO's CEO Ken Gallagher. "Addressing the small details make all the difference in project management, and it's not something that is always seen."
Christy Vavken, who is the lighting department manager and a professional project manager at Paramont EO, says there are special jobsite requirements that underscore the need for a thorough project management plan. Small-but-important jobsite details like drywall dates, lack of storage space, elevator sizes, the need for Saturday or 3 a.m. deliveries, and lack of access to dumpsters can cost contractors time and money if they are not mitigated from the start.
Erica Gallagher, who is Chief Marketing and Technology Officer at Paramont EO, said Paramont EO's team shares invaluable supplier and product knowledge with electrical contractors during the project management phase. "We have intimate knowledge of the suppliers, so we know who is delivering on time and who isn't," she said. "We also have in-depth product knowledge, which means we know what extra parts contractors will need with the specified parts. We can also offer alternatives that improve quality or cut costs."
Switchgear Services
From planning to completion, Paramont EO's switchgear experts deliver the power. Project teams utilize the same product configuration programs that manufacturers use to provide quotations, drawings and submittal projects.
Paramont EO offers quality products designed to meet the demanding requirements of electrical contractors. The company's commitment to supplying innovative solutions, design expertise, and new technologies is what sets the company apart in the industry. With a 125,000-square-foot, fully stocked and loaded warehouse, which boasts one of the largest electrical supply inventories in the state, the 50+-year-old electrical distributor offers niche products to compliment products from major manufacturers, such as Eaton and ABB/GE.
"Paramont EO is highly accommodating and has great resources to make our projects we work on together successful," said Andrew Lubker, project manager at Current Communications & Electric in Chicago, Illinois.
Lighting Design Services
Paramont EO's project teams work off blueprints and project specifications to ensure milestones are met. The team verifies the right quantities and the right materials, sometimes offering better engineering options to minimize change orders and project delays.
The company's staff includes lighting designers, controls specialists, and highly-organized project managers, which enables the family-owned electrical distributor to offer unparalleled lighting design and supply services. The team has decades of experience in the lighting industry and expertise in the latest 3-D modeling software. All designs, models and photometric studies are performed in house. Paramont EO's 80,000-square-foot lighting warehouse has designated project storage space and material to fill all of the lighting and electrical needs of the specification community, developers and electrical contractors.
"Christy Vavken, and her team at Paramont EO, have been instrumental in the success of the jobs we have partnered with them in," said Dan Poczkalski, project engineer at Kelso-Burnett in Rolling Meadows, Illinois. "Words truly do not do justice for the amount of appreciation I have for Paramont EO."
Project management services, which Paramont EO offers as a value-add, aligns electrical contractors with other invaluable services that can boost their bottom lines.
Direct Through Stock Service
To counter supply chain issues, more electrical contractors are using Paramont EO's direct-ship order process to have products brought into the facility for future release to their job sites, which ensures they will have the product when they need it. The Direct Through Stock program isn't a new offering, but electrical contractors are using the service more aggressively. Kitting Service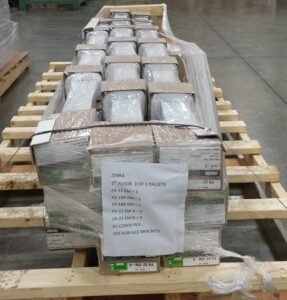 With staging, Paramont EO accepts shipments directly from the manufacturers on behalf of electrical contractors. During the staging process, the company adds kitting to increase productivity, which can reduce the risk of injury to your team of electrical contractors. Custom labeling is an important step of the kitting service, which identifies the essential electrical contractor's supplies in a given box to increase efficiency. Translating manufacturer speak to electrical contractor speak eliminates confusion and reduces the project's total cost.
Material Carts Service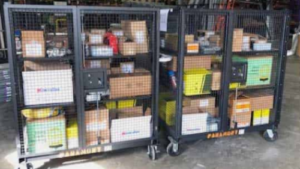 Electrical contractors can save as much as 50% of their material handling expenses by using Paramont EO's material carts service. Carts are a great example of how electrical contractors can reduce the incidence of injury, eliminate waste, increase jobsite efficiency, decrease storage costs and enhance mobility when it comes to electrical supplies. Paramont EO is a full-service supply and logistics problem-solver that helps electrical contractors maximize profit by creating custom solutions to meet their needs for every job—and that means keeping them as safe as possible. If you need help squeezing more profit out of your next job, contact us today! Our experienced project teams are ready to make your project more efficient.