PPE Alert: 3 Smart Ways To Protect Electric Contractors from Costly Injury, Loss
Ability and availability are two crucial factors that determine productivity, costs and the bottom line for electrical contractors.
Finding electricians to hire is hard, so keeping them safe once you've got them on the job is critical. To accomplish that feat, you need more than just basic safety training, you need the right gear and a variety of safety products to keep your team injury-free.
Per the U.S. Bureau of Labor Statistics, the injury rate for contractors is 71% higher than injury rates across all other industries, and more than 195,600 injuries are sustained by contractors annually. Perhaps most alarming is that more than a quarter of injuries are not reported.
For example, research shows construction has the highest number of traumatic brain injuries of any industry in the U.S. More than 2,200 construction workers died from a traumatic brain injury sustained in the job during a seven-year period, according to the Centers for Disease Control and Prevention.
Unfortunately, the physical toll is only part of the problem. A mild head injury, like a concussion, can cost a company more than $100,000. More moderate head injuries cost an estimated $941,000. The most severe ones can tick into the millions.
To address this issue, add more smart work to your hard work.
For instance, start scheduling safety meetings at the start of every job. OSHA refers to them as job-site inspections.
At that time, review guidelines and safety procedures to keep them top of mind. These conversations ensure that everyone knows how to work safely in the field. To avoid unnecessary injuries and related expenses, it's also essential to ensure everyone knows all the significant hazards on the job site.
Inspect the job site with your contractors and ask them to identify any activity, piece of equipment, or material that concerns them. Use checklists, such as OSHA's Construction Industry Digest, to help identify problems. The National Electrical Contractors Association offers three popular handbooks. NECA recommends them to contractors following any training:
Another example of smart work: Personal Protective Equipment (PPE). Putting a physical barrier between you and the potential hazard is one of the most obvious, and yet often overlooked ways to avoid injuries. At Paramont EO, we have created a part of our website where electrical contractors can go to find helpful resources on PPE.
It's information that can keep your team on the job site.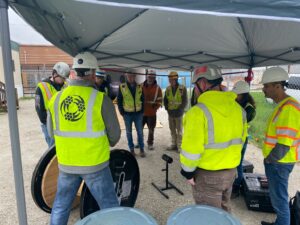 Did you know that more than 1 million construction workers go to the emergency room to treat a severe hand injury each year, according to the U.S. Bureau of Labor and Statistics (BLS).
That's almost 1/7th of the entire American construction workforce in the hospital. The average hand injury results in six days off.
Unfortunately, most of those events could have been prevented. About 71% of these injury workers were not wearing gloves, according to OSHA . The remaining 29% wore inadequate, damaged or the wrong type of glove for the specific work. (For example, if you are doing electrical work, you will need insulated gloves and sleeves, which are required.)
Hand injuries have been on the rise for years because of noncompliance. In fact, hand injuries are the second most common injury behind back pain. (Check out Paramont EO's PPE/Safety Catalog of gloves.)
Like all injuries, these incidents go straight to the bottom line.
One disabled hand or finger injury, per the National Safety Council, costs $540 to $26,000 per patient. More extreme injuries can tally $730,000 per incident. These tallies do not include other expenses like workers' compensation claims.
Various forms of electrocution also fall on OSHA's most common workplace injuries list. Burns are examples of the least serious injuries while severe events include nerve damage, cardiac arrest and death. The Bureau of Labor Statistics reports a 3.75 percent increase – 166 workplace deaths related to electrocution – in 2019, compared to the previous year.
Inadequate wiring, overloaded circuits, defective ground faults, non-insulated power lines, live parts and even temporary wiring top the reasons for the hazard.
OSHA does an excellent job of detailing legal must-haves for contractors to keep safe. Obligations include using proper PPE, de-energizing equipment, proper lockout and tag-out procedures and always maintaining a safe distance.
Our value-added services for electrical contractors is the third example of how Paramont EO helps reduce injury on the job site.
Electrical Contractor Services Reduce Injury Risk
In addition to offering PPE and safety gear, we provide valuable services for electrical contractors that not only save time and money but help reduce risk on the job site.
Kitting Service
Our kitting program entails working with our clients to understand their intended workflow for a given project so that we can help identify opportunities for added efficiencies on the job site. Things like unboxing and grouping items together in a single box, or even some light pre-assembly, help reduce the risk of injuries and manage waste on a job site while speeding the installation process. Custom labeling is an important step of our kitting service, which identifies the essential electrical contractor's supplies in a given box and where they are supposed to be installed, which can significantly increase efficiency. Translating manufacturer speak to electrical contractor speak eliminates confusion and reduces the project's total cost.
Material Carts Service
Electrical contractors can save as much as 50% of their material handling expenses by using our material carts service. Most job sites involve multiple trades working simultaneously and constantly needing to relocate workspaces and supplies to accommodate one another. Carts are a great example of how electrical contractors can reduce the incidence of injury, product damage, eliminate waste, increase jobsite efficiency, decrease storage costs and enhance mobility when it comes to electrical supplies.
Direct Through Stock Service
To counter supply chain issues, more electrical contractors are using the direct-ship order process to have products brought into our facility for future release to their job sites, which ensures they will have the product when they need it, but won't be tripping over it on the job site in the meantime! Our Direct Through Stock program isn't a new offering, but electrical contractors are using the service more aggressively to reduce overall project cost and risk.
At Paramont EO, we are a full-service supply and logistics problem-solver that helps electrical contractors maximize profit by creating custom solutions to meet their needs for every job—and that means keeping them as safe as possible. If you need help keeping more contractors on the job, contact us today!