Kitting: 4 Ways To Cut Cost of Electrical Contractor's Supplies
Somewhere in Chicagoland, there are a couple of electricians waiting for a $2 dollar bracket on a job site.
And it's costing them hundreds, if not thousands, of dollars.
"This occurs on a daily basis throughout the industry," writes Philip Nimmo in an article about procurement management for Electrical Contractor magazine.
Material handling accounts for about 40% of the labor on a job.
Kitting is one of the many services Paramont EO provides to help electrical contractors increase their 3% percent margins.
For more than 50 years, Paramont EO has been a full-service supply and logistics problem-solver that helps commercial contractors maximize profit by creating custom solutions to meet their needs for every job.
The family-owned distributor offers more than 50 time-saving services, which includes cost-effective kitting for a variety of electrical contractor's supplies.
"Everything you need to get your job done has been grouped together in an efficient way so all the product that you need at that moment are together," said Erica Gallagher, Paramont EO's chief marketing officer. "We get rid of all the waste—boxes, plastic bags, fasteners—and group it so it's organized and ready to install.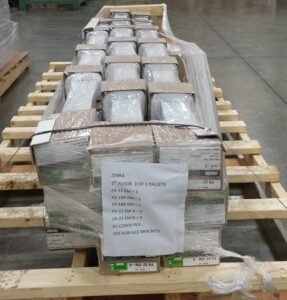 Improves Efficiency With Workflow, Electrical Supply
When a manufacturer ships electrical supply for a project, Paramont EO will receive them on behalf of the electrical contractor. Then, Paramont EO will stagger deliveries to the electrical contractor in a manner that aligns with the workflow at the jobsite.
Custom labeling is an important step that Paramont EO adds to its kitting service, which identifies the essential electrical contractor's supplies in a given box to increase efficiency. Translating manufacturer speak to electrical contractor speak eliminates  confusion and reduces the project's total cost.
"For instance, when fixture boxes arrive, they have cryptic labels that may not align with the electrical contractor's expectations," Gallagher said. "For example, the label could read "CSR4-232-U-EU-1PK-GMF-EL", which means something to the fixture manufacturer. It may describe the type of electrical product and its length. There is a nomenclature behind it, but it's not necessarily the same nomenclature that would help electrical contractors. So, we will slap on a bright orange custom label that explains what is in the box from the electrical contractor's perspective(Type F1/EM). We may also include additional information such as where the item should be installed (i.e. Third floor. East Wing. Room 120). The descriptions are based on the contractor's building plans. It's a big time and frustration saver, and it reduce errors."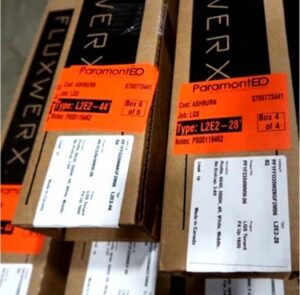 Improves Margins With Labor, Electrical Supply
For jobs that include similar rooms with similar needs and the same electrical supply, kitting is a valuable service. Imagine a tenant buildout with 1,000 rooms. That's a lot of different electrical components in the mix. But it's manageable if the eight receptacles, the wall switch and plates, the dimmers and trim, as well as the light bulbs are organized in one box for every room.
"Kitting is about us taking all the electrical components out of the boxes from the manufacturer and grouping them together in an organized fashion so the electrical contractor can install them more efficiently," said Ken Turek, who is director of operations at Paramont EO.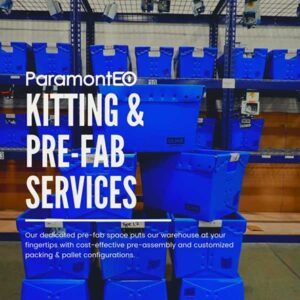 According to the National Electrical Contractors Association, the cost of labor accounts for 42 percent of annual revenue. Reducing inefficiencies, such as the total cost of material handling, goes straight to the bottom line.
Reduces Waste of Electrical Parts
Kitting does save electrical contractors time and effort. It also helps in other ways.
"It's a waste savings," Gallagher said. "We recycle and reuse all the packing supplies because there are tight restrictions on the amount of waste that you can generate on a job site. Plus, it is inconvenient and time-consuming to take a freight elevator down to the trash bins multiple times.. It's a lot of extra time that we save them."
Regarding waste, Paramont EO does something else that saves electrical contractors time and money. When electrical contractors open a box from a manufacturer for the first time, they can see if something was damaged in transit. They can see if it's the wrong part or if a screw is missing. "When we do a kitting project, we inspect everything to make sure it is all ready to install when it is delivered to the electrical contractor," Gallagher said. "It's another risk factor that we mitigate."
Improves Inventory Control of Electrical Parts
Another example of kitting involves shark carts, which are fully loaded material carts that come with see-through convenience and lockable doors to keep material safe, secure and readily accessible. This is a valuable jobsite service because all the electrical supplies needed to complete an installation has been placed on a cart that can be wheeled around a job site with ease. Electrical contractors can access everyday materials in a device that can be secured to prevent loss and theft. And when the cart is empty, they just call to have Paramont EO pick up the empty cart and replace it with another fully loaded material cart. The stock-and-replenish service, also known as Vendor Managed Inventory (VMI), reduces electrical contractors' wasted time making them more profitable.
"We have partnered with Paramont-EO on several high-profile lighting projects because of their exceptional service and value-adds," said Julio Moreno, who is senior project manager at Gibson Electric in Downers Grove, Illinois. "Their fixture carting and custom labeling services allow our electricians to quickly accept deliveries, organize and stage product, all while working safely. This value-add leads to both an effective and efficient installation. It is a huge benefit to our team and our clients."
For more than 50 years, the family-owned electrical distributor has built its business to better serve electrical contractors with 125,000-square-feet of fully stocked and loaded warehouses, comprising one of the largest electrical supply inventories in the state. Paramont EO also offers dozens of time-saving services that range from kitting and staging to onsite job trailers, around-the-clock on-time deliveries to repair services and project management to reduce contractors' expenses. To better serve the market, its strategic locations include Chicago, Woodridge and New Lenox.
And that's how Paramont EO, a full-service supply and logistics problem-solver, helps commercial contractors maximize profit by creating custom solutions to meet their needs for every job.
Want to convert your material handling expenses into profit? Contact Paramont EO today!